Chapter 1 – Big Picture
Scheduler123 is an affordable capable-to-promise solution using excel-based production scheduling system. Scheduler123 will empower schedulers to help their manufacturing solve production planning issues such as late order, can not commit new customer with accurate due date, line down waiting for material. With this tool scheduler can do what if capacity? And can collaborate with all concern people to highlight the potential problem and can resolve capacity issues before they occur.
1-1 Main Benefits
• Improve On Time Delivery (OTD) KPI
• Improve % Customer Retention Rate
• Improve Customer Satisfaction Index
• Reduce % Late Order per Period
• Reduce % Production Line down waiting for shortage material
• Reduce labor cost and overhead cost support for urgent order
1-2 Key Features
• Easy to Learn – With step-by-step action guide and online demonstration video.
• Easy to Use – Develop for every Excel users with macro button for repetitive tasks or complicate tasks.
• "One Button" Automated Finite Capacity Scheduling – The planned start date and the planned end date of all operations of all loaded orders will be automatically suggested.
• Forward Scheduling and Sequencing by Priority number, then by No Earlier than Date
• Batch Transfer Hour – To shorten manufacturing throughput time by allowing starting the current operation after the previous operation start for the batch-transfer hours.
• Flexible Gantt Chart – Can view Gantt chart in detail or in summary (every hour, 2,4,6,8,12 hour or every day) with or without shade on Saturday/Sunday
• Powerful Visual Control – All operations can have color status: Green – On Time, Red – Late, Pink/Blue – Buffer time. Scheduler can rapid see red color which show on some operations
and find solution to fix it with quick response.
• 120 Days Time Fence Period – Can have schedule visibility for 4 months
• 2,000 planning lines ( job-operation rows )
• 20 Calendars for 20 individual-calendar work centers or for 100 shared-calendar work centers – Implement work centers with own calendars up to 20 work centers means each work center
can have own preventive maintenance, overtime assignment, etc.
• Weekly Break Time and Holiday – Each calendar will have own weekly break time and holiday which working time of that calendar will be reduced automatically.
• What if capacity? – When scheduler found that some order cannot meet the committed due date, he can have many choices to resolve them.
• All Production Schedule Report in One Time – Update all Production Schedule Reports for all concern automatically when click on "Rescheduling" Button
• Unlimited Customized Reports – Can copy from standard report for all fields in Scheduler Workbench, and using Pivot Table for multi-dimensional analysis.
• 5 User-defined Fields – For your customized reports
• Separate Mon-Fri working time template to support night shift and support weekend of some countries that are not Saturday and Sunday.
• Infinite Work Center to support outsourcing operations
ERP for Manufacturing – Free Pricing & Demo
1-3 Product Conditions
Please read this session carefully before starting your implementation
• Do not support for Excel 2003 or Excel 97 or older version
• Do not support 64-bit Excel version
• Specific Path (C:\Scheduler123) for system files. – Scheduler123 application will have 2 system files, one ticket file, and one application extension file (dll file).
Those files need to be installed in the specific path only, C:\Scheduler123.
• Macro Enabled – Scheduler123 use VBA code and macro functions to help scheduler do this job more productivity.
In Excel2007 you can set "C:\Scheduler123" as "Trusted Location" [ Excel Option | Trust Center | Trust Center Setting…| Trusted Location | Add new location | browse…] you can run Scheduler123
without any concern on macro setting again.
If you set macro setting as "disable all macro with notification" [ Excel Option | Macro Setting ] every time when you run Scheduler123 you will see "Security Warning" message in message bar:
"Macros has been disabled", you must click "Option" button and click on radio button of "Enable this content".
• Single User License for a Specific Computer – When you buy Scheduler123 you will have a single user license which can use in a specific computer only. Before installation, please select
your target computer which plan to run Scheduler123 in production environment, not in testing environment.
• Continuous Running Number of Operation – Operation number in the same job order need to have continuous running number such as 1,2,3,4 or 2,3,4,5. Scheduler123 cannot get the right
result if in the same Job Order have operation number like this 1,3,4,5. If you input discontinuous number, system will alert with red background color, see an example below:

• Read-only Cells – Scheduler123 prevent user accidently adjust calculated information which lead to be wrong information, therefore those cells will be protected. All input cells will have
"Light Green" color background. See area within red square in image below for an example.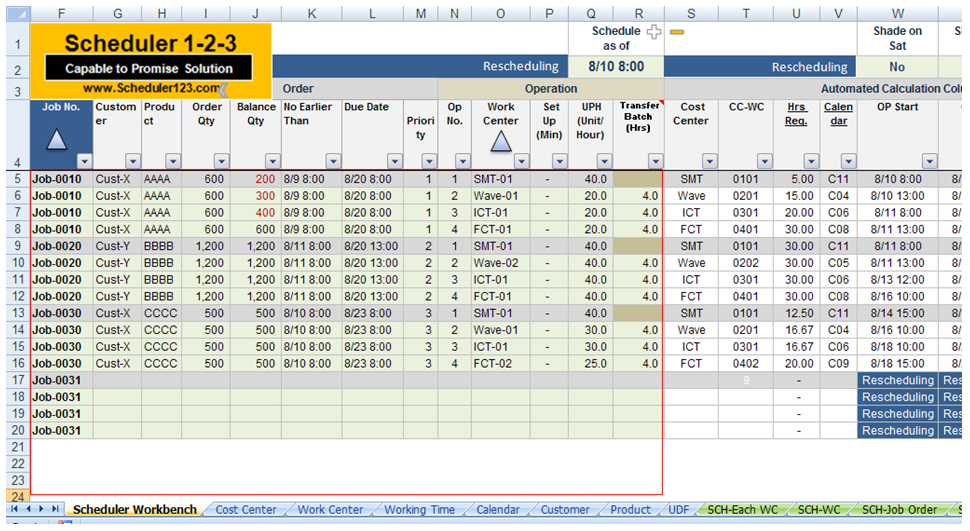 1-4 Daily Tasks of Scheduler123
ERP for Manufacturing – Free Pricing & Demo